Florence
/
Museum
/
Galileo Museum
Galileo Museum Florence
The museum of science and Galileo Galilei in Firenze

The Museo Galileo is a museum about one of the most famous scientists ever, Galileo Galilei and his scientific instruments.
Info Galileo Museum Florence

Location
Piazza dei Giudici 1 Firenze
Tickets

Adults 10.00 €
Up to 6 years free and children from 6 to 18 years 6.00 €

Saving tip: Are you planning to visit many museums and palaces in Florence? Then we recommend the FirenzeCard. With the FirenzeCard (85 €) you can visit dozens of attractions for 72 hours such as the Uffizi, Galleria dell'Accademia, Palazzo Vecchio and of course the Museo Galileo.

Hours

Daily from 9:30 am - 6:00 pm (Tuesday to 1:00 pm)
Closed: January 1, December 25 and Tuesday afternoon

Website
Official website
A museum about one of the most famous scientists ever
On February 15, 1564, a boy was born in Pisa, the first of six children, into a family of nobility: Galileo Galilei. In 1574 the family moves to Florence and Galileo stays behind with relatives in Pisa, but the same year he also goes to the Tuscan capital. His father wants him to become a doctor and Galileo starts studying medicine, but soon realizes that his passion lies elsewhere. He switched to mathematics and then to physics.
Important discoveries of Galileo
Galileo makes famous discoveries far ahead of his time. He learns that fall acceleration depends on mass. He discovers that a swing is dependent on the length of the wire. He improves the telescope of Dutch inventors and then makes discovery after discovery in astronomy, such as the Galilean moons of Jupiter. He is also the founder of heliocentricity, the knowledge that the earth revolves around the sun. This caused Galileo to come into conflict with the Roman Catholic Church, after which he was placed under house arrest for life.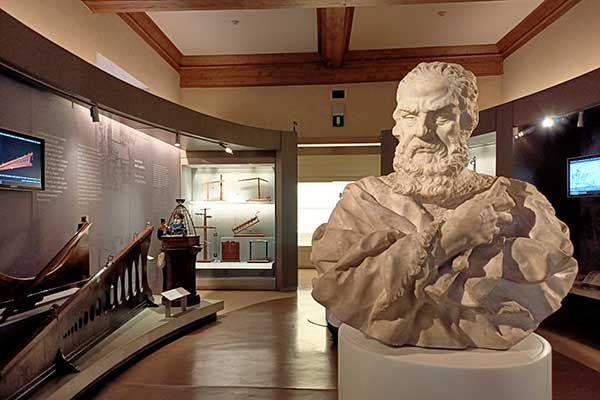 A statue of Galileo Galilei in the science museum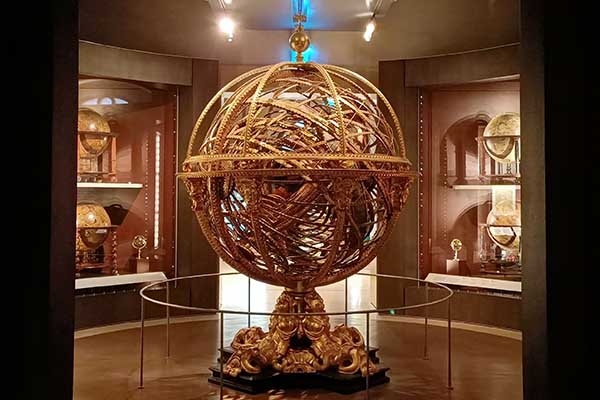 A museum full of scientific instruments
Museo Galileo di Firenze
In the science museum, located next to the Uffizi Gallery, you will find instruments that Galileo himself used during his discoveries. This is where you find the lens he used to discover the Galilean moons of Jupiter. Some rooms contain astronomical instruments, such as the famous astrolabe. There are also rooms with general scientific collections from the two dynasties, which ruled Florence. Showpieces of the museum are also: old maps, globes, microscopes, calculating equipment, thermometers and barometers. You can also admire anatomical models and surgical instruments. The bronze sundial at the entrance of the museum is still working.
Fun fact
Galileo is also partly present in the museum. At least, his thumb and index finger, which were missing for years. These fingers were kept separate in the eighteenth century, when the scientist was buried in Santa Croce. The two fingers had been missing for years, but when they were found, an investigation revealed that they were Galileo's missing fingers.
Video: Impression Museo Galileo
---
Where is the Galileo Museum in Florence?

Our readers say
4.8
(95.83%)
196
reviews
May 3, 2021 Simone: "We had a fantastic holiday in Florence and Tuscany because of the interesting tips for sightseeing and activities in Florence."