Florence
/
Attractions
/
Palazzo Medici-Riccardi
Palazzo Medici-Riccardi
A former Medici's palace in Florence

The Palazzo Medici-Riccardi is a former Medici's palace in the center of Florence. Later it became the palace of the Riccardi family.
Info Palazzo Medici-Riccardi

Location
Via Camillo Cavour 3
Tickets

Adults 7.00 €
18 - 25 years 4.00 €
0 - 17 years free entry

Tip: Are you planning to visit many museums and palaces in Florence? Then we recommend the FirenzeCard. With this FirenzeCard (85 €) you can visit dozens of attractions such as the Uffizi, Galleria dell'Accademia, Palazzo Vecchio and of course Palazzo Medici-Riccardi for 72 hours.

Hours
Daily 10.30 am - 6.30 pm and closed on Wednesday
Website
Website
Former palace of the Medici's
The Palazzo Medici-Riccardi is the former city palace of the Medici's, where this family actually lived. In 1444, the palace was built in Florence or Cosimo de Medici the Elder by Michelozzo. It remained in the hands of the Medici family for a century, but then it was sold to the Riccardi family. Catherine de 'Medici lived here, who later became Queen of France by marriage to King Henry II. The palace consists of two floors around a colonnaded courtyard, where statues from the sixteenth century can be seen.
Today the Palazzo Medici-Riccardi is a museum. At the basement level, where the stables used to be and later on the basement, you will now find archaeological finds and the classical bust museum. The latter has only been open since 2005 and shows the collection of busts of the Riccardi family. On the ground floor you will find the large courtyard with the high colonnade. It is a Renaissance courtyard with classical elements. Also here you will find the Medici garden, where the Medici's came to rest in an environment with stuccos and decorations from the eighteenth century. Finally, on the ground floor you will find the temporary exhibitions, such as photographic exhibitions.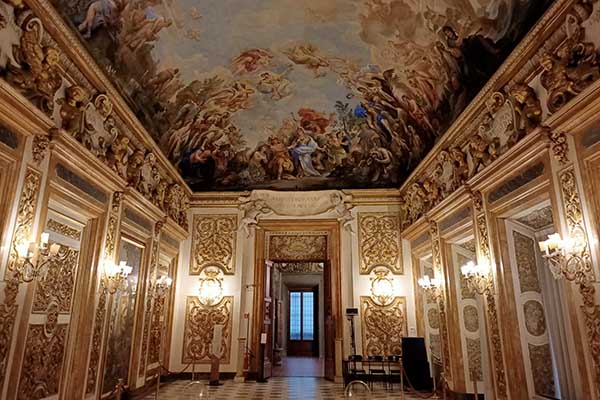 Luca Giordano room in the Palace of Medici-Riccardi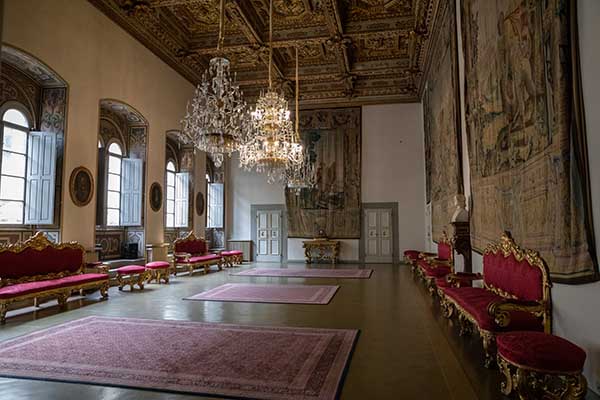 Palazzo Medici Riccardi
---
Where is Palazzo Medici Riccardi in Florence?

Our readers say
4.8
(95.83%)
196
reviews
May 3, 2021 Simone: "We had a fantastic holiday in Florence and Tuscany because of the interesting tips for sightseeing and activities in Florence."