Florence
/
Attractions
/
Fontana dell Porcellino
Fontana dell Porcellino
Return to Florence? Touch the boar 'Il Porcellino'

On Florence's Mercato Nuove you will find a bronze fountain of a boar, also known as 'Il Porcellino'. Touch his nose and the legend tells that you will return to Florence.
Info Fontana dell Porcellino

Location
Piazza del Mercato Nuovo; this is just one block away from the famous Piazza della Signoria
Back to Florence? Toach the boar
On the Mercato Nuove you will find a bronze fountain of a wild boar. You will see that the beast's snout is shiny and weathered. This is the result of the thousands of people who have stroked the nose. Legend has it that you will return to Florence when you do this. For luck, throw a coin, in one movement, into the grid located between the boar's legs.
The legend
The legend of Il Porcellino: The wild boar would turn into a young man every night, who fell in love with a girl on one of his night outings. She fell in love with him too and they wanted to get married, so the boy told his secret and made the girl swear she kept her mouth, otherwise he would become a boar forever. However, the girl did not keep her mouth shut, and the secret came out, leaving the young man a boar forever.
The history
The wild boar was actually made in 1612 by Pietro Tacca. He derived the shape of the boar from the Roman replica of a Hellenistic statue. The copy can be found in the Uffizi Gallery, while the original is in the Bardini museum. It was planned to place Il Porcellino into the Boboli gardens but was eventually put on the Mercato Nuovo.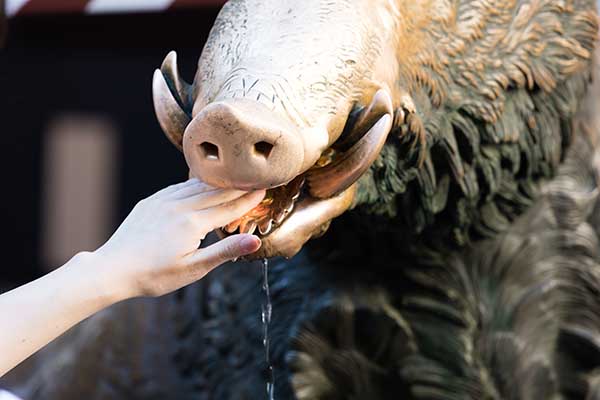 One day you will return to Florence ...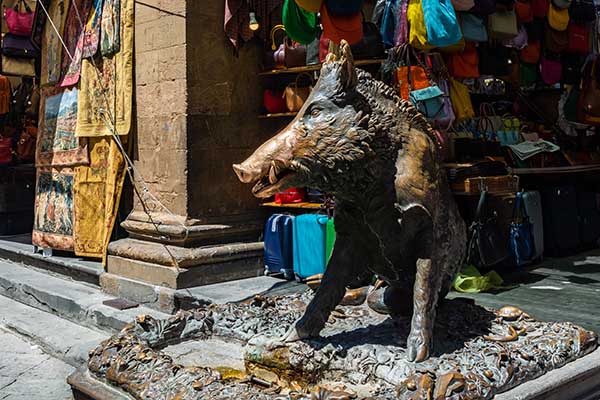 The Fontana dell Porcellini
---
Where is Il Porcellino located in Florence?

Our readers say
4.8
(95.83%)
196
reviews
May 3, 2021 Simone: "We had a fantastic holiday in Florence and Tuscany because of the interesting tips for sightseeing and activities in Florence."